"

...and then there is THAT voice...a voice that exudes passion, power and extraordinary intensity..." - Gio Pilato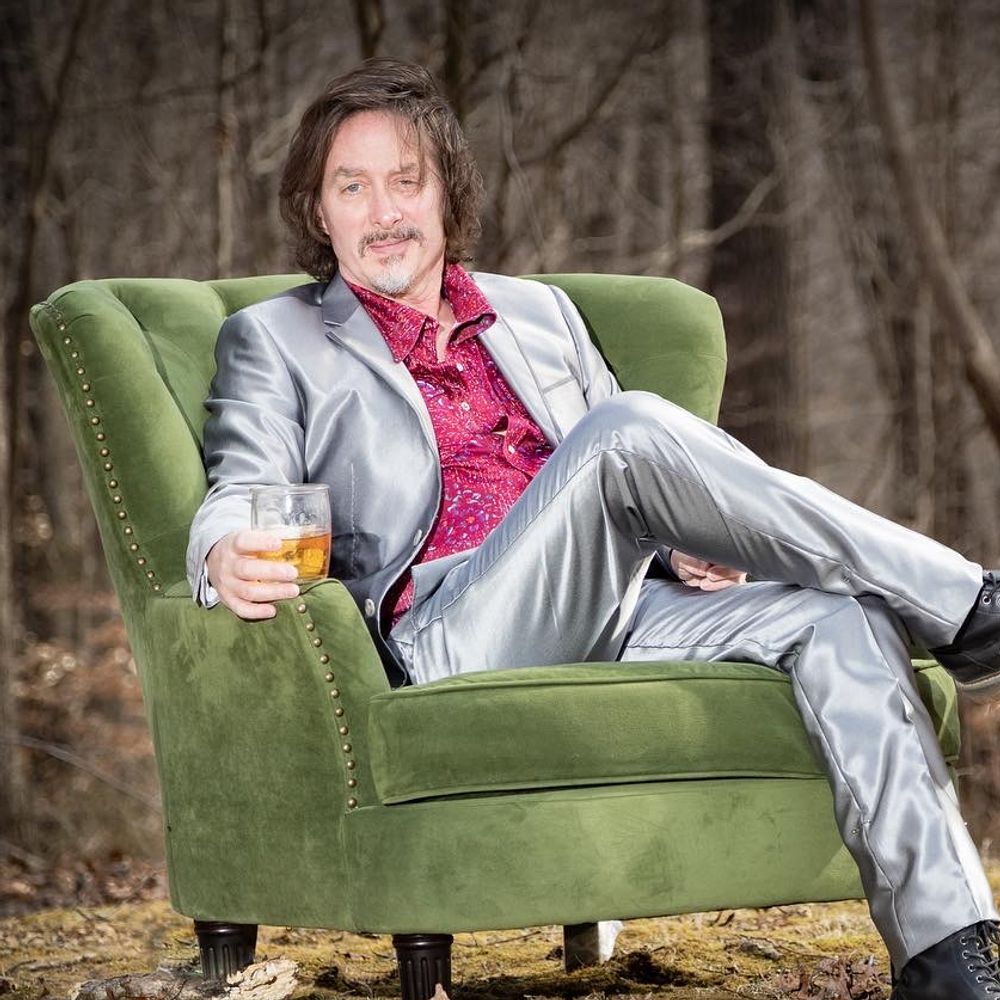 Doug Henthorn - Dare to Love Him.
---
"One of United States' best kept secrets, the Indiana born and bred guitarist and singer/songwriter...a very distinctive sonic trademark, suspended between Americana and contemporary Southern-Rock, with a touch of 70's sound at times." - Gio Pilato Bluebird Reviews
---
"One of the true great  under the radar singer/songwriters - Love this guy." - Jason Bonham
---
"It's a fantastic mix of heart, soul and hunger, and I bloody  
loved it. More please, Doug." - Samantha Simmonds-Ronceros - NoHoArtsDistrict.com
---
"Henthorn travels the rock, blues and soul roads many have   
taken before, but his engine is a sleek and well-oiled one that can   
warm the heart of any true rock fan." - Ljubinko Zivkovic, - Rock At Night - The Netherlands
---
"...stellar guitar work, and strong rock 
vocals. Along with a gift for crafting catchy new blues rock, he can 
wring new emotions out of well-worn covers." - ArtandCultureMaven.com
---
"...this Indiana native has a great feel for putting it all 
together. Well done." - Kath Galasso - On Stage Magazine
---
"Dark, contemplative, soulful, hopeful and warm, 'Three' finds the 
Indiana singer-guitarist at his most resilient and transparent." - Darryl Sterdan - Tinnitists.com
---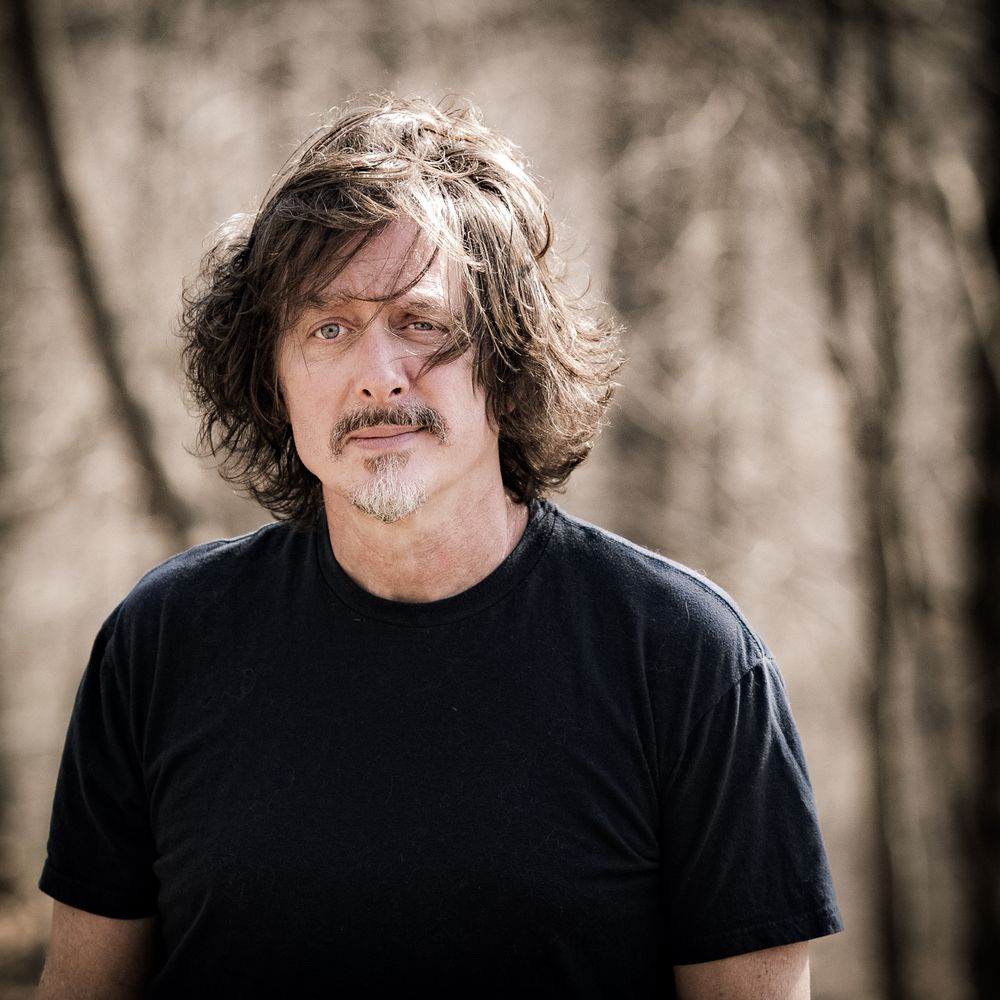 Short Biography
Doug's had his hands in a number of projects since founding and fronting the blues-rock band Healing Sixes (2001-2014). Since that time, Doug's released three full length albums and continues to put on riveting live performances with his band of outstanding players.
His debut release "Cold Medicine" (2016) is a rootsy, sometimes brooding songscape. "The LLC" (2019) is a fun barebones rock record with a healthy dose of newly termed 'Alternative Blues'. His latest release "Three" (2022) has been receiving rave reviews with standout tracks like 'Set Em Up, Throw Em Back, Knock Em Down' and an eclectic version of 'Drive' by The Cars.
Besides his solo career and Healing Sixes, Doug's shared his voice and/or guitar skills with notables such as Joe Bonamassa, John Hiatt, Jason Bonham, and Beth Hart.
Doug continues to perform and record all over the US and abroad while maintaining his residence in central Indiana.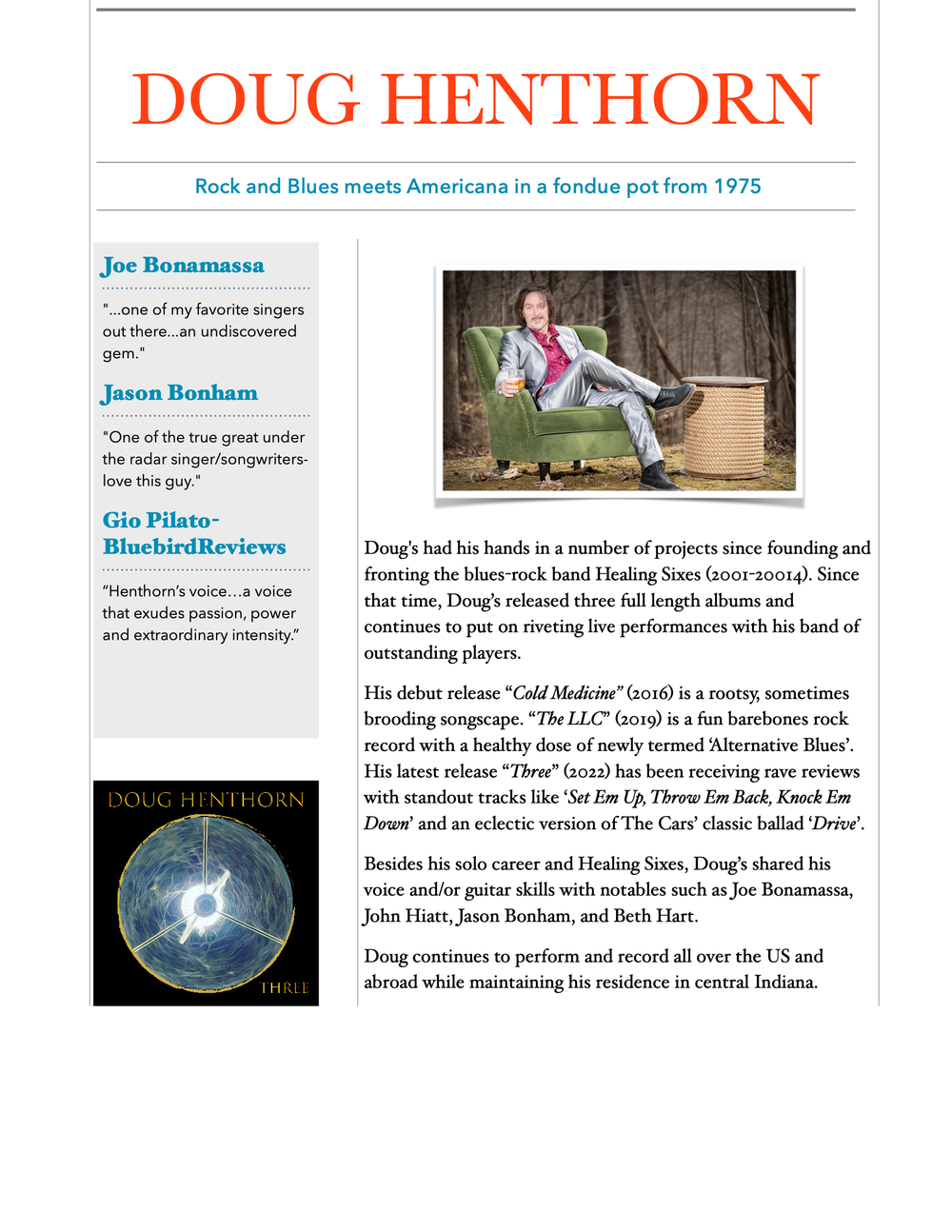 Press Photos